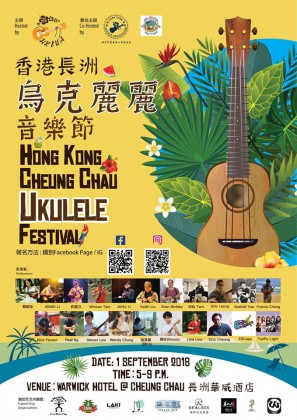 9月は香港のフェスティバルで日本を代表して演奏してきます。香港長洲島での記念すべき第一回フェスティバルです。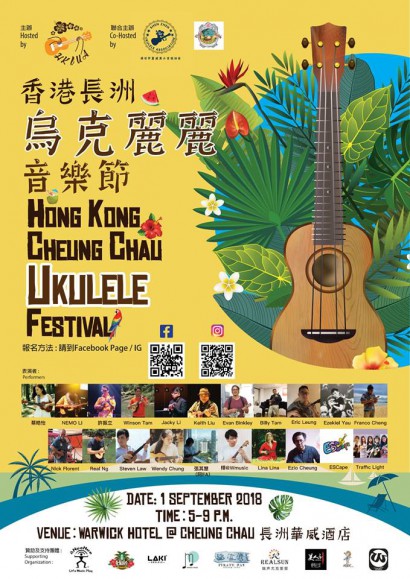 香港長洲烏克麗麗音樂節 / HONG KONG Cheung Chau Ukulele Festival
https://www.facebook.com/hkiua/
Date: 1 September 2018
Time:5-9 p.m.
Venue: Warwick Hotel @ Cheung Chau 長洲華威酒店
—
Hong Kong Cheung Chau Ukulele Festival (Free Entry)
Please find below for the application form for seats. (No application is required for performers.)
As the venue area is limited, applicants will be first come first served. Please kindly notify us immediately if you are not able to attend. We will notify applicants on waiting lists.
籌備多時,終於可以正式宣佈了!
我們欣然的向各位宣佈,我們協會將於2018年9月1日於長洲華威酒店舉行第一屆的音樂節,到時候會有17隊表演嘉賓,分別來自香港,中國,澳門,台灣,英國和美國,為大家帶來美妙的烏克麗麗音樂。
希望大家能把此活動分享出去,讓更多人接觸烏克麗麗音樂。
稍後時間我們會為大家好好介紹這些表演者。他們都是一流的烏克麗麗好手啊。
We are very delighted to announce we are going to held our first Ukulele Festival. We will be having 17 groups of performers, coming from Hong Kong, Mainland China, Macau, Taiwan, U.K. and U.S.A. They will bring us fantastic ukulele music.
Please help us to share our event!
We will introduce these great players one by one soon.
Save the Date!!
Date: 1 September 2018
Time:5-9 p.m.
Venue: Warwick Hotel @ Cheung Chau 長洲華威酒店